Empowerment
Empowerment "Basics"

Merriam Webster Dictionary Definition
The dictionary definition of empowerment.
Empowered Birth Project
A virtual community run by Katie Vigos started to provide birthing people with a community. They engage in social media campaigns and speaking engagements. It also features an in the press page with current events and news articles.
BirthWorks International
BirthWorks International is an organization working to transform the ideas around birth, and remind birthing people that it is an instinctual process that their body is capable of handling. They provide a monthly newsletter, evidence based education information, mentorship, childbirth education, and doula training.
Doula Diaries
"Doula Diaries" is a video series that showcases doulas and the impact that they can have on a birthing person's experience. The Youtube series has 2 seasons that provide representation for people of different backgrounds and races, in order to help dispel preconceived notions about the role of doulas.
The Empowered Mama
A blog by a paramedic and midwife that strives to create a community of pregnant people and parents. There is a facebook group and a wide variety of easily accessible articles ranging from pregnancy to breastfeeding to home births.
Behavior Change Impact
This is a database set up to present different data on the reproductive empowerment of different countries. The database allows the user to search for different scientific articles by a number of different factors such as country and level of agency.
Calm Confident Doula
A website that has a blog and a team of doulas who are experts in birth and postpartum. Their mission, as a welcoming team, is to provide care and information to all mothers and expecting mothers through doula service and through informational blog posts throughout the pregnancy journey. This resource is also useful to learn more about what birth empowerment is.

Evidence Based Empowerment Practices

Normal Childbirth E-Book: Evidence and Debate
Discusses how midwifery supports birthing people. Discusses the difference between pain relief, the traditional Western medicine approach to childbirth, and working through pain, the phrase used by midwives.
Women's Experiences of Empowerment in a Planned Home Birth: A Swedish Population‐based Study
Discusses the possibility that pregnancy and birth can be an empowering experience but, only if birthing people feel a sense of control. This control is not exclusively based on choice of where to give birth but also being informed consistently. This study is exclusive to people residing in Sweden who planned a home birth.
The association between pregnancy processes, preterm delivery, low birth weight, and postpartum depressions—The need for interdisciplinary integration
This study discussed the importance of having a well rounded approach to caring for birthing people, prioritizing both their physical health and mental well being. It detailed the effects of mother's stress hormones on babies and how empowering these women help them and their baby thrive.
Women's empowerment related to pregnancy and childbirth: introduction to special issue
The goal of this article is to help people understand the importance of birth empowerment and the situations where greater empowerment is associated with improved health outcomes. These can assist policymakers in planning and prioritizing their investments.
Client-tailored maternity care to increase maternal empowerment: cluster randomized controlled trial protocol; the healthy pregnancy 4 All-2 program
This trial assesses the health and empowerment of mothers in the Netherlands. They are observing a client-tailored approach as a part of a larger protocol called the Healthy Pregnancy 4 All - 2. This program is meant to work with the citizens of the Netherlands to provide adequate care for pregnant and postpartum people. Empowerment is a large part of their focus by giving mothers access to care and information.
Dimensions of women's empowerment on access to skilled delivery services in Nepal
The research done in Nepal focused on looking at the correlations between women's empowerment and their ability to gain access to quality care. They found that a number of the different kinds of empowerment that they surveyed for correlated with access to quality care, such as media and socioeconomic empowerment.

Birth Empowerment Issues

Postpartum Depression
A systematic review of concepts related to women's empowerment in the perinatal period and their associations with perinatal depressive symptoms and premature birth
A literature search and review studying women through their pregnancies and first year postpartum. The researchers studied how empowering women through this tumultuous time could lead to positive health outcomes for the mother and child, both physically (reduced premature birth and low birth weight) and mentally (reduced postpartum depression). The vast majority of studies reviewed showed improvement in pregnancy and postpartum depression rates.
Postpartum Depression I womenshealth.gov
A webpage that has information about many questions that people may have about postpartum depression from the Office on Women's Health.
Marta's Story
Marta shares her story of postpartum depression.
Postpartum Support International
A place to find help for people suffering with postpartum depression.
Medical Racism
Racial Discrimination and Adverse Birth Outcomes: An Integrative Review
A research article looking into the effects of medical racism and birth.
Eliminating Racial Disparities in Maternal and Infant Mortality
An article that presents problems and consequences of racial disparities for mothers and ideas for ways to improve these racial disparities.
The Health Care System and Racial Disparities in Maternal Mortality
An article discussing the reasons and ways that racial disparity occurs in birthing mothers.
How the CDC and others are failing Black women during childbirth
This article discusses the different government institutions at the national and state level that have done good things and bad in regards to the racial disparities that birthing black women are facing.
Black Women's Maternal Health: A Multifaceted Approach to Addressing Persistent and Dire Health Disparities
A report on the recurring health disparities faced by black mothers.
Community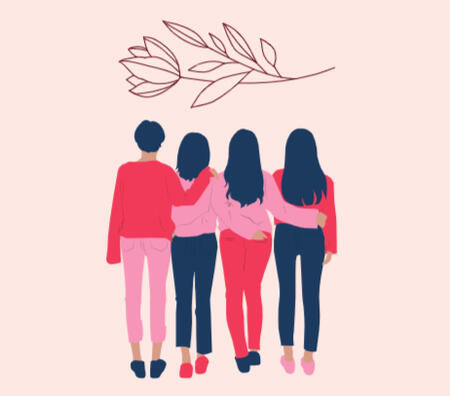 Sharable Resources

Birth Empowerment Infographics
Here are some shareable resources designed by our team regarding common birth empowerment topics. Feel free to post and share these on Instagram, Facebook, and Twitter to help spread the knowledge about birth empowerment.

Share Your Stories

Padlet
This public virtual message board is designed for anyone to share their stories of birth empowerment. We encourage you to share your stories and ask any questions to our birth empowerment community.

Local Resources

Tampa Bay Birth Network
The Tampa Bay Birth Network's mission is to encourage and educate a community of individuals, families, and professionals that support holistic & informed pregnancy, birth, and parenting for all.
Museum of Motherhood
Motherhood Foundation seeks to marry education, herstory, creativity, culture and community for the benefit of all with a special emphasis on women who are mothers by amplifying the voices of women who are mothers.
Museum of Motherhood Blog
A blog created by Museum of Motherhood that is dedicated to educating and empowering new mothers through pregnancy, birth, and motherhood.
Tampa Bay Parenting Magazine
Provides regular posts about activities and events in the Tampa Bay area for parents and their children.
Birthing Centers
Labor of Love Birth Center
They provide birthing news, testimonials, photos, placenta encapsulation, and educational classes.
Sweet Child O'Mine Birth Center
They have a blog, birth stories, free pregnancy tests, postpartum care, breastfeeding support.
Breath of Life Women's Health and Birth Center
They provide information about pregnancy, waterbirth, mental health counseling, well-woman services, and TOLAC care.
Doulas
Buddha Belly Birth
They provide support for families before and after. Offer consulting services, and post articles on a blog.
Barefoot Birth
They have a blog, recommended reading, information about doula and homebirth services, placenta encapsulation, and massage therapy.
One Love Doula Services
They provide doula and placental services, birth photography, a blog, and FAQs.
Midwives
Tampa Bay Midwifery
They provide pregnancy and childbirth services, (i.e. pre-pregnancy counseling, family planning, circumcision, and postpartum care.) They also provide women's health services (i.e. annual pelvic and breast examinations, pap tests, and menopause management).
UMA Midwifery & Holistic Services
UMA Midwifery services offer holistic Midwifery Care, Doula Services, Placenta Encapsulation, and Birth Photography. They serve Hillsborough and Pinellas county.
Reproductive Health Care (Local PP, Doctors, and Clinics)
Planned Parenthood
An AI bot geared for teengers that answers general questions about bodies, sex, and relationships.
Tampa Bay Breastfeeding Task Force
Provide lactation help in the Tampa Bay area, host quarterly general meetings, and offer breastfeeding resources. You can find their posts by following the hashtag #TBBreastfeeds.

General Resources

Home Birth Helpline Resources in the UK
A homebirth helpline in the UK that is volunteer run with the goals of supporting and informing birthing people.
Improving Birth
Provide information prior to giving birth, support for those who have had a difficult birth, engagement opportunities to prevent these negative birth experiences, and empowerment through community and storytelling.
Childbirth Connection
Their goal is to transform birthing experiences for black women and birthing people. Challenge human rights violations and aims to rebuild confidence that black and brown people are capable of birth.
Black Women Birthing Justice
A guide focusing on the discussion of medical racism, antiracism, and institutional racism.
Black Mothers Birth
Resources for parents, people who are looking to or not to become parents, and health professionals.
March For Moms
An organization with the goals of bringing together peoples' voices to enact change in parents' and families' health.